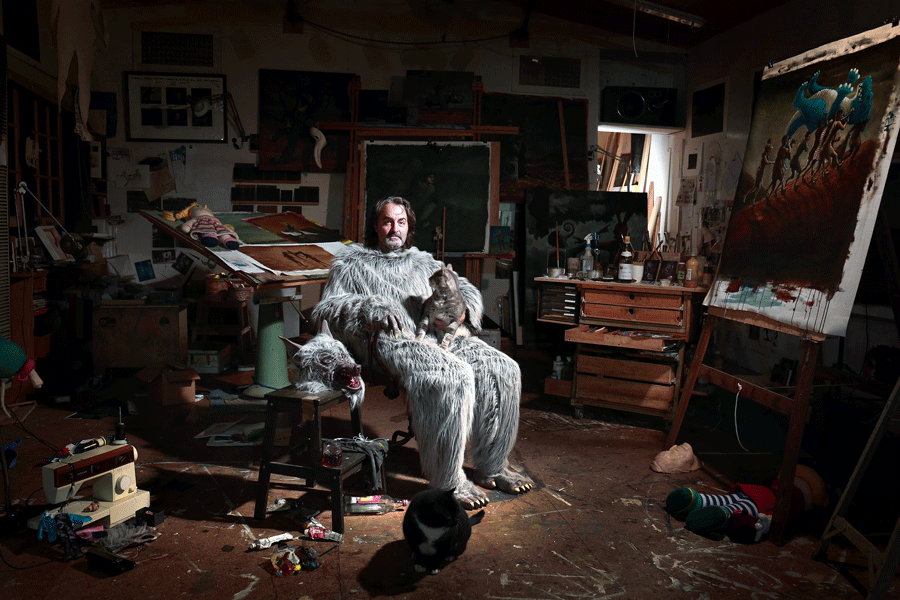 The above studio photograph that appears on the homepage is by fellow artist and close friend Robert Hague.
About Geoffrey's work
"Stylistically, Ricardo draws on figurative expressionism and surrealism to create his own 'dream realism'. Through this imagery, the artist presents his poignant observations of the human condition. Ricardo's observations sometimes allow us to laugh at our own behaviour. His images confront us with the comic and the absurd. Yet, underneath this initial glance at his images we may see his deeper philosophical questioning of human nature."
Excerpt from 'The personal iconography of Geoffrey Ricardo',
Professor Sasha Grishin AM, FAHA, 2009
Biography
Geoffrey Ricardo has held regular solo and group exhibitions since 1990. His formal studies have included Postgraduate and Masters of Fine Art in printmaking at Monash University, and he has worked as a print assistant at Bill Young Studios, a sessional lecturer at Monash University, The Victorian College of the Arts, R.M.I.T and P.I.T. and the CAE in Melbourne.
For more details, download his CV (PDF, 125KB).
Geoffrey is represented by Australian Galleries in Melbourne and Sydney; BMG Art Adelaide; The Art Vault and Queenscliff Gallery & Workshop in regional Victoria.
Essays and Articles
Exhibition Folio/Catalogues with essays
Videos
Teddy Bear Rollout by Kieren Mangan on Youtube.
Video interviews
Proposal documents
Kororoit Creek Shared Trail Sculpture Commission Proposal Document PDF 8 Mb